Today is a very special day; one that's been in the works for a long time. I hope everyone enjoys the truckload of new features that are being rolled out.
The Social Web
Today, Pine.blog joins the Social Web as a full-fledged member!
Blogs are, traditionally, a one-way medium. Bloggers can post and share their thoughts with the world but readers often don't have an easy way to respond to or comment on the stuff they read. Typically, blogs have either moderated comment sections (which force readers to post their thoughts on someone else's site and not their own) or the reader will need to reply via email.


This lack of interactivity was one of the driving forces that caused blogging and blogs to fade and facilitated the rise of more interactive, easier to use, and less cumbersome Social Networks. On Facebook, Twitter, Instagram, etc replying to a post was a button click away.
With the latest version of Pine.blog, one-click replies have arrived on the Open Web. Bloggers on Pine.blog now have the ability to reply to posts in their timelines, anything in the Feed Directory, and even to other replies!
When you reply to a post, Pine.blog uses Webmentions to let the recipient know you've responded to them, and if they respond back, you'll see their response in your Mentions as well as on the post they responded to. All blogs on Pine.blog automatically have a new Replies section so that your conversations don't crowd out your normal posts.
The Feed Directory
There's been a few changes to the Feed Directory with this release as well. Aside from some UI tweaks to the Tag Lists, there's been quite a few changes to the way sites and feeds are parsed and default feeds are determined, and Publishers adding their site to the Directory, you'll now receive an email when your site is completely imported.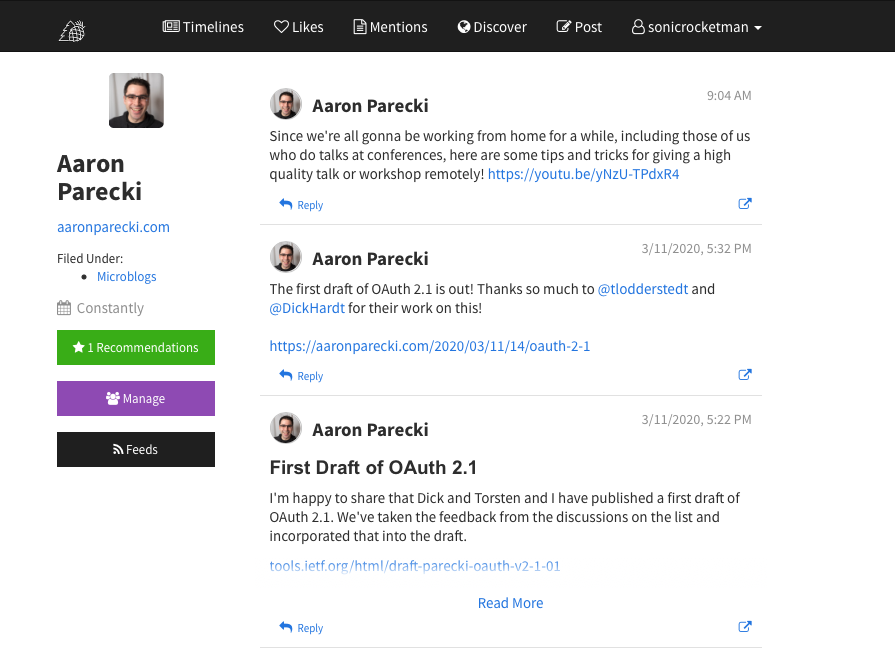 Subscribing to a new feed or site will now also cause the site's information to populate in the Feed Directory more quickly. This should fix the issue where some feeds or sites would look unpopulated for a while before fully being added to the Directory.
Hosted Blogs
Aside from all of the goodness with Replies, Hosted blogs are getting a number of substantial improvements. First off, they now work without Javascript 🎉 This change also means that your blog should load a bit faster even with Javascript enabled. In addition, visitors can now see the comments, mentions, and replies that are sent to your blog (this behavior is configurable in your account settings).
Notes on Pine.blog for iOS
Currently, a new version of Pine.blog for iOS is still in the works. It became evident recently that there needed to be quite a bit of tweaking done to get the app ready for all of these new features. A new version of the app should be out in the coming weeks.
I'd love to know what you think of these new features. And if you have thoughts, let me know!